Bjorn Bjorholm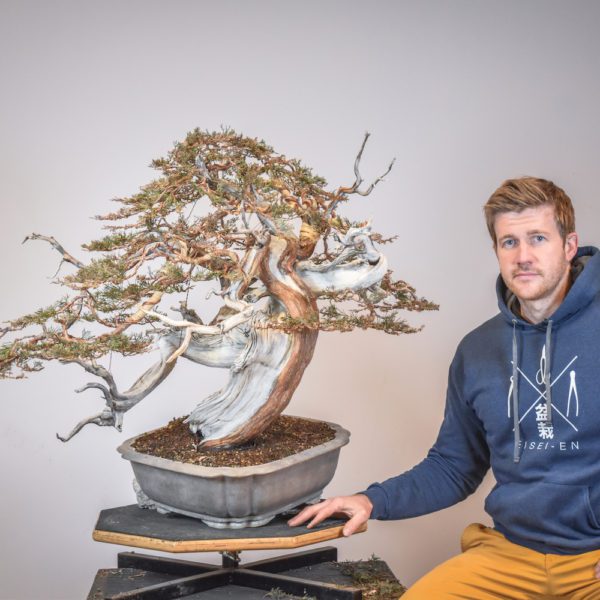 Bjorn L Bjorholm is an American bonsai professional and bonsai educator recognized internationally as a master of his craft. He spent six years as an apprentice under Master Keiichi Fujikawa at Kouka-en in Osaka, Japan. Following his apprenticeship, Bjorn achieved certification as a Bonsai Professional from the Nippon Bonsai Association in 2014. Remaining at Kuoka-en for three more years, Bjorn subsequently became the first foreign-born working bonsai professional in Japan, where his works were featured in many of Japan's greatest exhibitions such as the Kokufu-ten, Sakufu-ten, and Taikan-ten.
Bjorn is the owner and proprietor of Eisei-en near Nashville TN where he operates an intensive bonsai school while simultaneously developing a plethora of trees both for sale and for his stunning personal collection. In addition to Eisei-en, Bjorn travels and teaches internationally. Both working on collections across the globe and and teaching instructional classes abroad.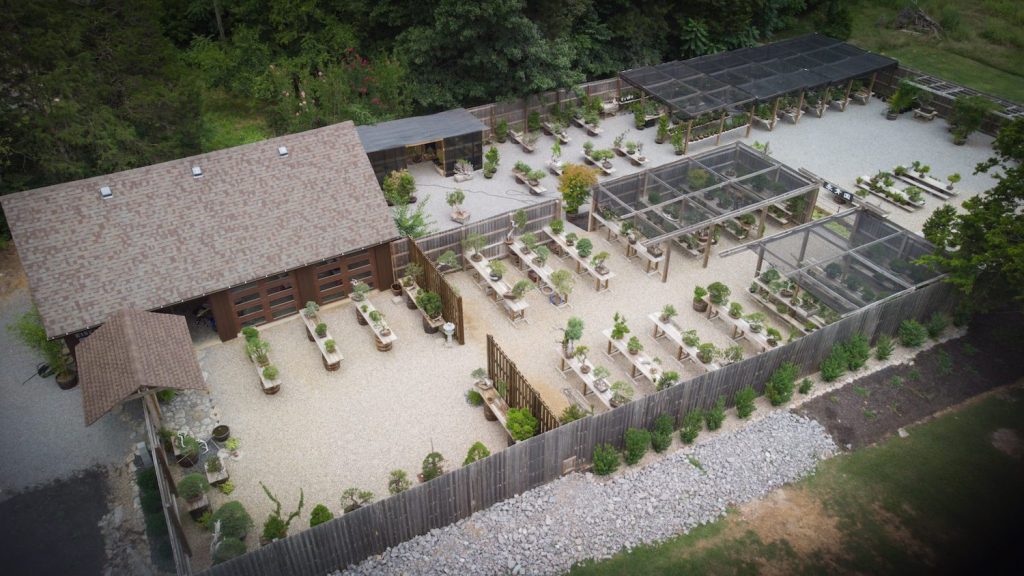 Currently, Mr. Bjorholm is developing an online learning platform, Bonsai-U, where he publishes video-based content breaking down various techniques, and best practices for caring for bonsai. His undeniable talent, dedication to his craft, and aptitude for teaching concepts in an informative yet concise manner make the platform a superb resource for practitioners of all skill levels.
---
Tyler Sherrod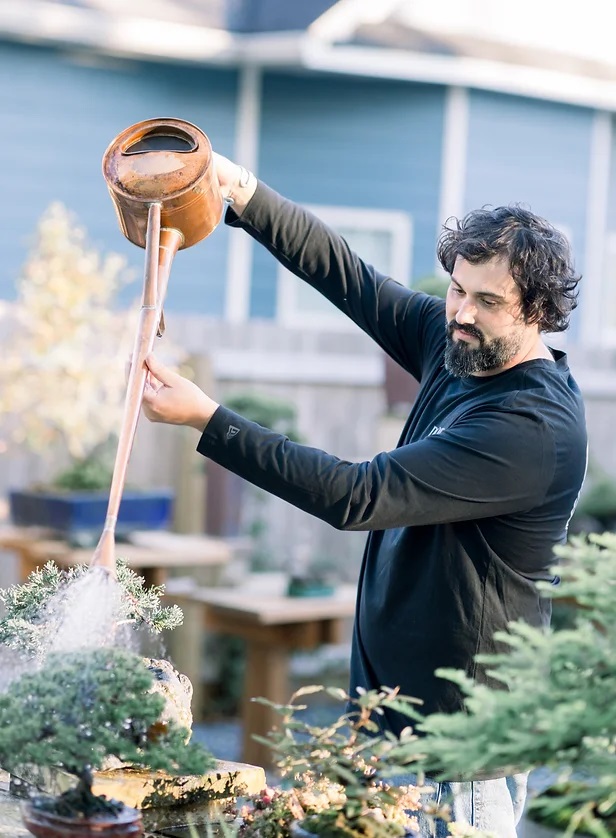 Tyler Sherrod resides in Hickory, NC where he owns and operates Dogwood Studios, a bonsai nursery centered around developing and maintaining trees of the highest quality. Tyler, a film studies minor and unabashedly huge fan of Star Wars, was drawn to the 'dark side' of bonsai through employment at the Bonsai Learning Center in Charlotte, NC, shortly after graduating from the University of Tennessee in 2008. To continue his bonsai education, Tyler became a student of Boon Manakitivipart in the Bay Area of CA, traveling many times a year to Boon's weekend workshops. With Boon's blessings and introduction, Tyler was able to parlay his experience in the Bay Area into a full apprenticeship under the tutelage of Master Shinji Suzuki and the Taikan Bonsai Museum in Obuse Japan in 2011.
Tyler Studied with Master Suzuki for five years, obtaining his certification as a professional from the Nippon Bonsai Association in 2016. During his apprenticeship Tyler was able to work on the refinement of some of the best trees in the world, both within Mr. Suzuki's garden and for Mr. Suzuki's patrons. Many of these trees were showcased in Kokofu-ten, Taikan-ten, and Sakafu-ten, often winning top prizes at these shows.
Since returning to the States, Tyler has worked diligently to build his clientele and establish his nursery in the foothills of the Appalachian Mountains. His client's trees have received critical acclaim at the Nationals and other large North American shows, winning many of the top prizes. He enjoys the patronage of several study groups across the eastern US, including large contingents in the Atlanta and St. Louis metro areas.
As a sensei, yamadori collecting partner, and friend of many in the Bonsai Society of Greater St. Louis, we are delighted to have Tyler showcase his talents at Bonsai Central.

---
Marija Hajdic
Marija Hajdic is a talented bonsai professional and practicing lawyer from Croatia. Over the last two decades of honing her skills, including stints studying under the tutelage of Walter Pall and others, Marija has developed her keen eye for developing trees, particularly from deciduous yamadori. Living outside of Split in the village of Dicmo, Marija showcases her work at her thriving nursery Meleda Bonsai Studios where she develops trees for sale, holds classes and maintains a beautiful personal collection.
Marija is well-known across Europe and travels internationally to hold workshops. She frequently displays trees at many of Europe's premier exhibitions, including the Trophy (previously Noelandar's Trophy). Her tree, known as the Emperor, won recognition at the trophy in 2019, only a decade after the tree was collected. Marija's talents in bonsai are highly coveted as she approaches the medium from a truly artistic standpoint. She believes bonsai to be living sculpture, shaped by the artist and inspired by nature, but with the final "image" belonging to the viewer.
Besides being a top bonsai artist Marija is also an avid yamadori collector. In fact, nearly all of 100+ trees that she keeps in her collection are from yamadori she collected herself.
Bonsai Central will mark the first time Marija works as a professional in North America. We are honored to have her debut event coincide with our show.
---
Andrew Robson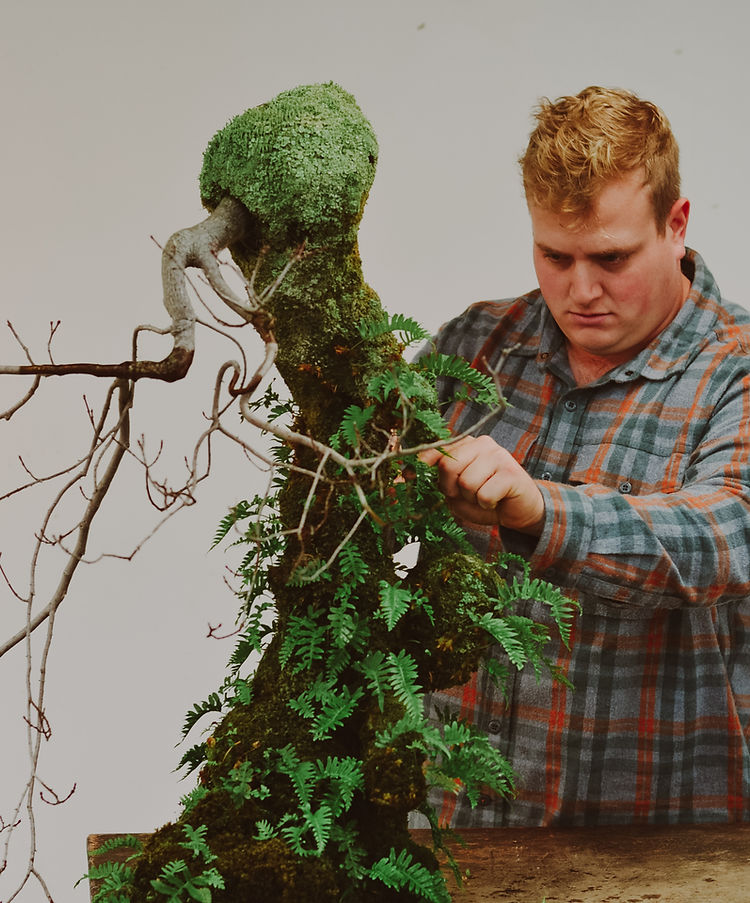 Andrew Robson, the founder of RAKUYO-en, is a prominent figure in the American bonsai community. With a passion for the organic beauty and ramification of deciduous bonsai that has driven his career, his garden and school are dedicated to the promotion, natural elegance, and techniques associated with the deciduous bonsai form. Within a community that often centers around conifers, Andrew and by extension his garden Rakuyo-en help fill an educational void in the greater bonsai community, professing the lesser-taught techniques for the requisite longer and slower development cycle of deciduous bonsai.
Andrew, who was born and raised in St. Louis, was first introduced to bonsai through the Bonsai Society of Greater St. Louis. While still a teenager, Andrew dove head over heels into the artform with his father Jeff, each of them serving in leadership roles within our club over the last two decades. After attending college and graduating from Yale, Andrew began a 3-year apprenticeship under Michael Hagedorn which laid the foundation for his success in the field. Remaining in Portland after his apprenticeship, Andrew is now President of the Bonsai Society of Portland, and has worked diligently to help continue the upward trajectory of the largest bonsai club in the United States.
In addition to his role at BSOP, Andrew is also a member of the Portland Bonsai Village and has served as a board member of the American Bonsai Society. In addition to entering trees in Regional and National show, Andrew regularly exhibits his work and lectures at the Portland Japanese Garden Learning Center. Andrew's expertise is further showcased in his role as a host of the Bonsai Wire Podcast, where he shares his knowledge and has deep discussions over bonsai with his co-hosts and prominent figures in the bonsai community.
Andrew is a wealth of knowledge and the BSGSTL as a group have been thrilled to watch his progression as an artist. Thus, it is an honor to have him back in St. Louis as a working professional near the top of his field.
---
Young Choe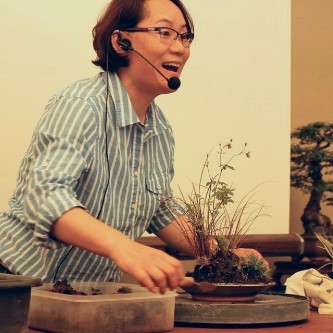 Young Choe is an artist specializing in the creation of kusamono, or as in the literal translation from Japanese, "Grass-things". Young first developed her interest in kusamono while volunteering at the National Bonsai and Penjing Museum. Young then traveled to Japan to study with master kusamono artist Keiko Yamane, a former student of Saburo Kato. By combining her training in the traditional art forms while in Korea with her knowledge gained during obtaining her BS in horticulture from the University of Maryland, her work with kusamono delicately, yet effortlessly balances the wild-ness of grasses, flowers, and other plants with her keen eye for form, balance, and composition.
Young is a leader in the field and a true pioneer within the art form in North America. She regularly conducts workshops and lectures nationally and internationally to eager audiences. At the 2021 National Show in Rochester NY, Young was commissioned to fill an entire display aisle with her kusamono, an exhibit that was undoubtedly quite memorable for all of those lucky enough to attend.
---
Mauro Stemberger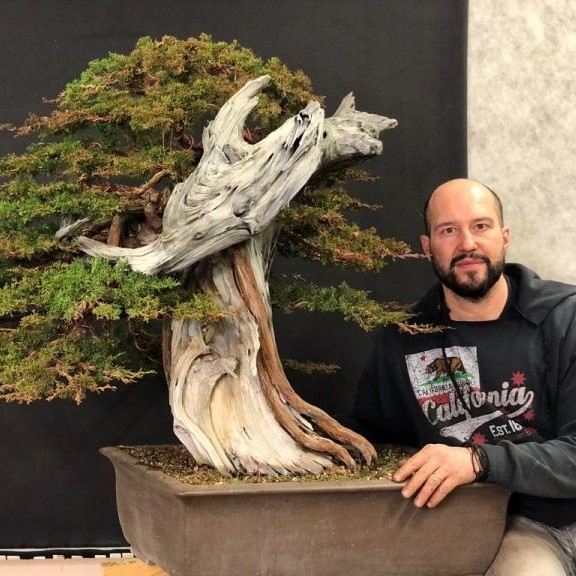 Mauro Stemberger, a bonsai artist with an infectious passion for his craft, is the driving force behind Italian Bonsai Dream, a garden, school, workshop and website operating out of Feltre Italy. Beginning his bonsai journey as a young whip of 14 years of age, Mauro has had the unique opportunity to learn from renowned European Bonsai artists like Hotsumi Terakawa, Marc Noelander, Horst Crekler, and Edoardo Rossi. A transformative period of his career took place in 2002, when studied under the tutelage of Enrico Savini at the Progetto Futuro Bonsai school.
As a practicing professional, Mauro is a frequent traveler, sharing his knowledge and skills with eager bonsai practitioners across the globe. He is an extensively published author with articles appearing in BCI, Bonsai Focus, and UBI, along with publishing a book, documenting his vision, artistry, and experiences across his career. Outside of bonsai, Mauro is a working architect in his native Italy. His training in architecture is clearly reflected in his work as he builds and styles trees in a way that truly demonstrates his mastery of space. In addition, Mauro is an avid and astute yamadori collector, attending collecting expeditions on multiple continents. Many of his works, which include a litany of large sprawling conifers and select deciduous, have been recognized with prestigious awards.